Hardwood Flooring in Denton, TX
As a timeless flooring solution, hardwood floors have long been a popular trend in the flooring industry. Known for their naturally warm features, unique grain patterns, and traditional feel, hardwood flooring have so much appeal. At My Flooring America, we carry a large selection of attractive hardwood flooring from top-quality brands. Stop by our showroom in Denton, TX, and browse our collection of hardwood options, from hand-scraped hickory to contemporary white oak. Our flooring experts will carefully guide you through each wood flooring product to explain the features and benefits of each type and help you find the best match for your design goals and performance needs. Stop by today and discover the difference when you shop with us.

Your Guide to Hardwood Flooring Types
There are two types of hardwood flooring: solid hardwood and engineered hardwood. Solid hardwood and engineered hardwood both look the same, but they perform drastically differently. When choosing which wood flooring type, it is important to consider where you'll be installing your new hardwood floors. Heavy foot traffic and exposure to moisture can impact which hardwood product you choose for your home. Learn more about our hardwood flooring selection:
Solid hardwood flooring

is a traditional style of wood floors where each plank is made from a single, solid piece of wood. Since its completely solid throughout, you can often

sand and refinish

your solid hardwood floors to meet your ever-changing style needs. This eliminates scratches, stains, dents, and other imperfections as well. While solid wood flooring is beautiful, it can also be susceptible to warping in humid or moisture-prone environments. This is why we recommend installing solid hardwood flooring in

above-grade

and

non-moisture-prone

spaces.

Engineered hardwood flooring

is designed with crosscut plywood layered together with a strong surface wear layer of natural wood. This layered design adds stability and prevents the wood from warping due to moisture or humidity exposure. Engineered wood floors have a natural hardwood veneer at the surface, meaning engineered and solid hardwood look identical from above. This type of hardwood is more affordable and durable. The only disadvantage to engineered hardwood is you can't usually sand and refinish it. However, this depends on the quality and thickness of its top layer.
Hardwood's Many Benefits
Hardwood offers many benefits that not only improve the value of your home but also can improve your quality of life. When you purchase hardwood flooring from our flooring store, you are investing in a quality product from some of the industry's best brands, including Baroque Flooring, Floorcraft, Downs, Spotlight Values, Johnson Hardwood, AHF Products, Mohawk, and many more. Learn more about our hardwood flooring selection's great benefits:
Enhances the look and feel of your home by adding

a touch of elegance

.

Low maintenance and

easy to keep clean

.

Adds value

to your home.

Solid

and

durable

, meaning it can last for decades and is an excellent

long-term investment

.

Helps improve interior

air quality

.

Looks

great with any decor

style.

Comes in

various appearances

, colors, styles, stains, and species.

Improves acoustics

in your space.
Waterproof Hardwood Floors
When you're looking for a hardwood floor that is waterproof, then look no further than brands like Aquadura H2O. Waterproof hardwood is the latest and greatest in flooring technology. Waterproof engineered hardwood can be installed on all levels of your home and in busier, more moisture-prone settings. These spaces can include your basement, mudroom, kitchen, and, yes, even your bathroom! This type of flooring is perfect for homes with kids and pets, where accidents and spills might more common. When you work with our flooring experts, we will be able to guide you to the best waterproof flooring product for your home.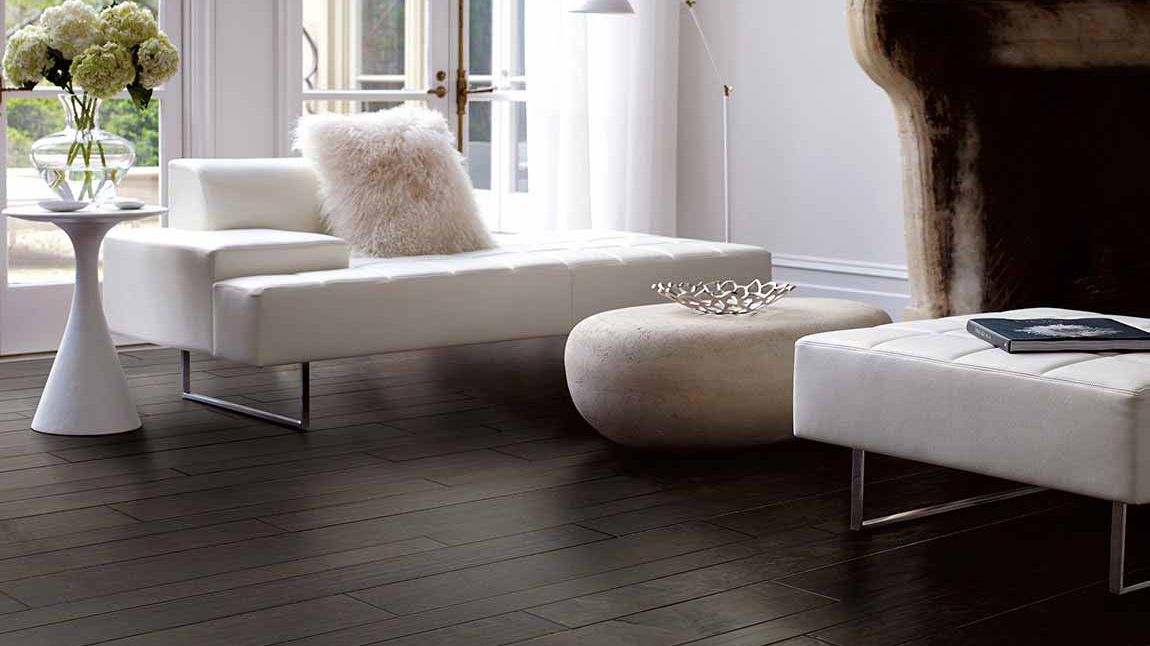 Keeping Your Wood Floors Clean
The advantages of having hardwood floors are endless, ranging from natural aesthetics to added long-term value to your home. One of the most significant benefits, though, is hardwood's ease of maintenance. The Denton, TX, area can experience a lot of humidity throughout the year so it is important to care for your wood floors accordingly. Before using any hardwood cleaning products, consult your floor's warranty to ensure you are using a product that won't harm your hardwood flooring. We are always happy to make a cleaning product recommendation! Take these steps to ensure your new wood floors are pristine:
Regularly

sweep or vacuum.

Dry mop to remove any excess dirt and debris.

For a

deeper clean

, use a soap and water mixture when mopping.

Use a wood polish every 2-4 months for

extra shiny floors

.

Consider purchasing a dehumidifier to help prevent your wood floors from expanding and contracting due to moisture.
Professional Hardwood Installation
When it comes to installing your brand new hardwood floors, you can count on My Flooring America's team of professional installers. With such a significant investment, you want to ensure your installation is handled by an experienced installer. Our team has years of experience under their belts and are familiar with our product brands. A smooth hardwood installation is guaranteed wih our Ultimate Confidence Guarantee. This guarantee is our promise to you of a quality installation. If you are at all unhappy with your new floors, we will replace them at no cost to you within 30 days of installation, providing a product of a similar price. We are committed to helping your design aspirations come to life and will find the hardwood floor to match.
Contact us to learn more about our hardwood flooring selection and installation services. We proudly serve Denton, Lewisville, Argyle, TX, and the surrounding communities.