Laminate Flooring in Denton, TX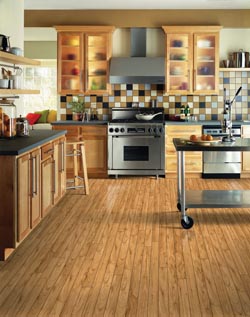 When it comes to installing brand-new flooring, our showroom has what you want and need to transform your home. We offer a diverse collection of laminate flooring that updates the look and style of any space. Our laminate floor coverings are strong and easy to care for and are available in a wide array of options to complement your interior design style.
If you love the look of hardwood but don't have the budget set aside for it, choose our brand-name laminate wood flooring with all the beauty of real wood. Or, if you prefer the clean look of ceramic or porcelain tile, consider laminate tile flooring for its authentic appeal and ease of maintenance. Come into our showroom so our design and sales professionals can show you samples from our stunning laminate collections, which are designed to make over any room in your home.
One of the best things about laminate is its affordability. You get the look and appeal of hardwood or tile for less money. The appeal of laminate - combined with its durability - gives you great value for your flooring dollars. You do not have to increase your budget or sacrifice quality when you choose laminate flooring from our showroom.
Oh-So-Affordable Laminate Wood Flooring
It is hard to tell the difference between the national brand names of laminate floors we carry and genuine hardwood. This is because all the qualities you love about wood, such as the grain, whorls, and knots, show up in our floor coverings. With advanced technology and manufacturing, a high-resolution photograph of a plank of hardwood is what you see when you look at our laminate. Laminate even installs in planks –just like wood.
However, laminate offers a number of benefits that make it easy to install this floor covering in any room and on any level of your home. The way our laminate wood flooring is made ensures that it resists moisture, so feel free to ask us for professional installation in the kitchen, bathroom, and basement. Plus, laminate is oh-so-affordable. You can save a significant amount on your flooring upgrade.
Cost-Effective Laminate Tile Flooring
Laminate tile flooring offers a cost-effective alternative to ceramic, porcelain, and stone. Our laminate has the distinctive beauty of tile, but at a lower price tag. Like tile, laminate offers a streamlined, clean look that has stunning impact. Laminate is available in all the styles, colors, and patterns of tile that you love.
Our local flooring store buys with a group of 500 others. This means, we get our choice of the latest flooring fashions in the freshest colors at great value. You have a wonderful selection of handsome, high-performance laminate to choose from in our showroom.
Laminate Floors Made of Layered Construction
If you need a long-lasting floor that outlasts constant wear and tear, then laminate flooring is for you. Laminate is fabricated with a four-layer composition. These layers help protect surfaces, stand up to water, and create stability. The layers of laminate include:
Wear Layer: Resists Moisture.
Decorative Layer: Provides Realistic Beauty.
Core Layer: Offers Water Resistance.
Balancing Layer: Stabilizes the Flooring.
Seek Professional Laminate Flooring Installation
Turn to our in-house professionals for quick and easy laminate flooring installation. These experienced installers know the manufacturer's instructions and possess hands-on experience in laying laminate floors for beauty and durability. With professional installation, your laminate looks lovely and lasts for many years.

Contact us today at 940-312-6736 to learn more about lovely laminate flooring. We proudly serve the communities of Lewisville, Lake Cities Chamber, Corinth, Hickory Creek, and Argyle, Texas, plus the surrounding areas.