Tile Flooring in Denton, TX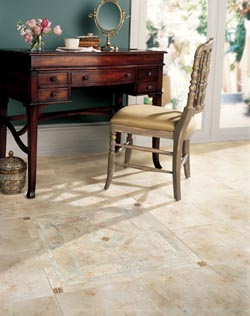 Elevate the elegance of your home or office with stylish tile flooring from our store. Our flooring specialists offer you a wealth of chic tile floor sizes and shapes to choose from along with the professional tile flooring installation you need to ensure your new floors fit perfectly. Whether you are looking for ceramic tile, porcelain tile, or slate tile, our store has exactly what you are looking for to upgrade or transform your house into the home of your dreams.
Our selections of tile are the easiest type of flooring to care for and clean. Its durability and ease-of-use don't come at the cost of its aesthetic. These tile floors are just as attractive as many of the most high-end flooring styles. When it is time to replace your old floors or you want to replace your current surface with new floor tiles, come and browse our showroom. We are ready to show you all of the different varieties of tile flooring we have to offer you.
High-Quality, Low-Cost Ceramic Tile Floors
With creative designs, long-wearing durability, moisture resistance, and ease of maintenance, ceramic tile is the ideal choice for beauty and wear. At our flooring store, we offer both residential and commercial ceramic tile floors from trusted national brands, including Design Distinctions™ and Floorcraft™. We believe in providing quality tile products to our customers, including some of the most attractive ceramic styles available. When you are looking for a tile floor made of ceramic that is attractive and tasteful, yet sturdy and resilient enough to withstand even the heaviest traffic, you will find it among the tile products we carry.
Whether you seek new tiles for your kitchen, bathroom, showroom, or office, we have the best options to suit your preferences and needs. These tile products provide a transformative aesthetic boost to your home or workplace, while ensuring that your property will continue to look great for years to come. When durability and price are just as important as looks and style, this flooring is here for you to choose from.
The Sophisticated Aesthetic of Porcelain Tile
Porcelain tile is suitable for both casual and formal settings. You can create endless designs throughout your home with perfectly matched decorative accents and trim pieces when you choose to work with this exciting, sophisticated flooring. Looking to impress visiting friends, family, or clients? Then it is time for you to consider opting for the amazing options available at our flooring store. We feature glazed ceramic and porcelain tile floors in an array of hues for an aesthetic that enhances any space.
The selection of tiles available from our flooring warehouse includes random and high-color variations, which help you to produce a distinct, multidimensional effect in your home or office. This effect creates an appealing, fluid pattern throughout your living space that accentuates your décor while giving you the opportunity to make a bold statement about your unique style.
Available color palettes range from light neutrals and earth tones to reds, greens, and greys. This allows you to customize the look of any area you choose with any look you feel works the best. Start with a color and then browse the following tile flooring styles to complete your tile flooring upgrade:
Ackerman
Akando
Caitlin
Cooper
Lennox
Lucretius
Spinoza
The Modern Look of Slate Tile
Nothing works better on floors and walls quite like slate tile. Slate is one of the most long-lasting and durable types of floors currently available. Even better, it has a much more natural look than many of the other types of tile, helping you blend modern aesthetics with classic, natural beauty. The experts at our flooring showroom are ready to help you find the sturdy tile you want for your home or office in a sleek style and color combination that exudes a classy edge like no other flooring surface.
The slate tiles we offer to you are resistant to stains, slips, chemicals, and frost. The tile we offer has a Group IV PEI wear rating, which means it comes with the ultimate strength. Finally, we can professional install your new slate tile floor perfectly for you and back up our work with our Confidence Plus warranty. Let our flooring center be your solution for all of your slate floor needs.
Professional Tile Flooring Installation
Picking out the right type of tile for your floors is only the first step to properly upgrading your space. The second step is ensuring that you have a professional tile flooring installation service perform the work for you. With the help of our professionals, installing your tile floor is an effective and efficient process that allows your imagination to go beyond the basic grid or square designs you often see in most homes or offices. For example, the brick floor tile pattern is an extremely popular option that exudes a beautiful subway style look for your property.
Perhaps one of the most popular tile flooring patterns we install, and for good reason, is tile flooring installed in a checkerboard pattern. This is a timeless pattern that can look as modern as it does retro. Creating a tile border is also fairly simple when you work with our tile flooring installation professionals. This simple addition is sure to add an elegant touch to your tile flooring project.

We're proud to serve customers throughout Denton, the Lake Cities Chamber area, Sanger, Krum, Justin, Aubrey, Corinth, Hickory Creek, and Argyle, Texas.