Tough and Elegant Engineered Hardwood in Denton, TX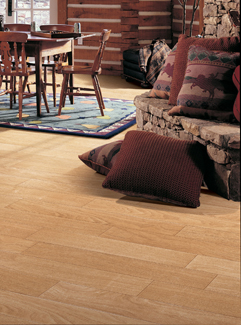 No flooring material leaves such a lasting impression as hardwood. At My Flooring America of Denton, we provide homeowners with the right options to realize their design goals. We're proud to offer engineered hardwood in Denton, TX. Give your home a natural and rustic look and feel--while reinforcing the strength of your property.
Hands down, we make it easier to complete your re-flooring project. No matter the size or scope, we're with you at every step. We have a wide-ranging selection of flooring from some of the most respected names in the industry. Also, our showroom staff can provide helpful recommendations, empowering you to make the right choices for your rooms. Our team can also facilitate engineered hardwood installation according to your schedule. From start to finish, we make remodeling a simple and seamless experience.


The Engineered Advantage
Gain the appearance, strength, and lasting value of solid hardwood--anywhere in your home. Engineered wood flooring is similar to solid hardwood planks. It is available in a variety of wood species and finishes, allowing homeowners to easily impart a distinct aesthetic to any room.
Engineered hardwood takes things a step further by improving durability. The core of engineered wood planks is comprised of layers of plywood and composite materials, making it highly resistant to moisture and humidity. The top layer incorporates solid hardwood.
Thanks to its resistance against changes in moisture and temperature, engineered wood flooring can be installed in more rooms, including the basement. Now, you can enjoy the beauty of Nature anywhere in your home.


Steer Your Interior Design in a New Direction
Engineered hardwood melds the natural elegance of hardwood with the resiliency of luxury vinyl flooring--and it's ready for your next project. At our flooring showroom, you can explore your creative options and find the products that best meet your needs. We offer a wealth of engineered hardwood options in a variety of species, including oak, pine, and mahogany.
Don't forget--we're here to help you attain long-lasting results. Our showroom staff stays up-to-date with the latest trends in interior design, and you are more than happy to arrange a consultation with our team. We'll help you find the right flooring, room by room so that you can get the most from your project.
When you've made your selections, count on us for engineered hardwood installation. This flooring material installs easily over a variety of surfaces, and our professional installers can adapt to your project space. As a result, you will enhance your interior design, strengthen your home, and improve the value of your property.



Contact us to learn more about engineered hardwood. Our showroom proudly serves customers throughout Denton, TX, including the Lake Cities Chamber of Commerce area, Sanger, Krum, Justin, and the surrounding communities.