Wood-Look Tile in Denton, TX, Takes Your Interior Design Further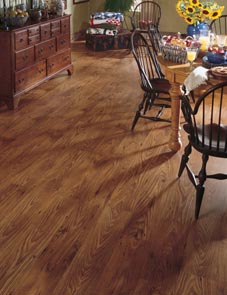 Hardwood always imparts a timeless look and feel to any room. Unfortunately, the laws of physics and rules of Nature mean that it isn't the best choice for every room. At My Flooring America Denton, we help you keep that natural aesthetic appeal throughout your property. Diversify your interior remodeling options and explore our selection of wood-look tile in Denton, TX.
Thanks to our extensive selection and completely customizable approach to service, finding the right flooring for your home has never been easier. We offer a stunning selection of porcelain tile flooring that has the appearance of hardwood. Now, you can give every room, including the basement, a majestic ambiance.


Porcelain Tile: The Versatile Choice
The enemy of all hardwood is moisture. It can seep into the grain and create warping, which can compromise the appearance of any room--and your property's overall value. Thanks to advances in porcelain tile flooring, you can still take advantage of hardwood's appeal.
As its name suggests, wood-look tile is flooring made from ceramic. Ceramic and porcelain are widely revered for their durability and resistance to water. Thanks to a sophisticated kilning process and specialized glazes and finishes, wood plank ceramic tile can take the places where hardwood can't go.
Homeowners count on wood-look tile because:
It's Built to Last: Ceramic planks are tough and resilient, and they hold up well against foot traffic, scratches, and impacts. It also resists moisture so that it won't expand, contract, or lose its shape over time.
It's Easy to Maintain: As a highly stain-resistant surface, this flooring material will repel water and other liquid-based stains easily. Simply use a mild cleaning solution and a cloth to keep your flooring looking new.
It Leaves an Impression: Ceramic wood tile has a unique aesthetic, thanks to the grain-like patterns that result from grout. It can also mimic the appearance of popular hardwood species, allowing it to fit in with existing hardwood installations.
It Fits Anywhere: Wood-look flooring is a great addition to any room, including high-traffic areas like the kitchen and bathroom. Invest in this flooring material, and you will enjoy its beauty and functionality for years to come.


Choose Wood Plank Porcelain Tile at Our Showroom
At our flooring showroom, we encourage you to enter with ideas--and leave with a plan! We have an extensive catalog of ceramic and porcelain tile, allowing you to find the right products to meet your needs. Our showroom staff is also available to provide helpful recommendations.
When you're ready to get picture-perfect results, we're here to assist you. We can coordinate professional flooring installation services, allowing you to enjoy your selection according to schedule. Hands down, we make re-flooring your home a simple and rewarding experience.



Contact us to learn more about wood-look tile flooring. Our showroom proudly serves customers throughout Denton, TX, including the Lake Cities Chamber of Commerce area, Sanger, Krum, Justin, and the surrounding communities.