Resilient Waterproof Flooring in Denton, TX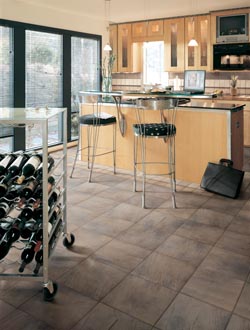 Make your remodeling project a simple, seamless, and rewarding experience with My Flooring America of Denton. At our showroom, we make it easier to improve the beauty, strength, and value of your property. Our selection of waterproof flooring in Denton, TX, ensures you have the right products to make your interior look great and last long.
Thanks to our versatile product selection, customized approach to service, and proven customer support, you have the resources and tools to make your project a success. Whether you are re-flooring a single room or your entire property, we're here for you.


The Advantages of Waterproof Flooring
Whether you're off to work or play, life is an active adventure. Isn't it about time that your home keeps up with your busy lifestyle? By investing in waterproof flooring, you can improve the look and feel of your favorite rooms while strengthening them at the same time. This flooring type is known as water-resistant flooring, as the materials repel spills and stains. Key benefits to waterproof floors include:
Ease of Maintenance: This flooring material is meant for daily life. Our waterproof options are manufactured to last and require minimal effort to keep clean and new.
Design Variety: Available as waterproof carpet, vinyl, and laminate, this lineup of flooring offers a virtually limitless amount of interior design options.
Versatility: Since waterproof flooring is designed to be resistant to staining while remaining easy to clean, it's a great option for any room--including the kitchen, bathroom, living room, and more!


Explore Your Options at Our Showroom
Whether your project is for your bedrooms or common areas, there's a waterproof flooring option available to you. We have teamed up with the well-known brands to offer a wide selection of waterproof carpet, luxury vinyl, and laminate.
Strengthen your entire property and take your interior design to new heights. Our flooring showroom features:
Carpeting: Carpeting adds a welcoming ambiance to your living room and common areas--all without making compromises on durability. Waterproof carpet repels liquids, and many accidents can be cleaned up with a cloth.
Luxury Vinyl: Waterproof vinyl flooring is a great choice for kitchens, bathrooms, and anywhere in between. It brushes off spills, scratches, and impacts. Luxury vinyl flooring is available in the appearance of hardwood, ceramic, and stone, providing wide-ranging customization options.
Laminate: With its pleasant underfoot feeling and everyday durability, waterproof laminate is a smart choice for the value-oriented homeowner. This flooring installs easily, allowing you to enjoy the results of your investment sooner.


Selection and Service You Can Count on
Get the results you want, all according to your schedule--we're with you every step of the way. Our flooring associates can help you find the right waterproof flooring to meet your needs. Also, we can facilitate professional installation services.
Our well-trained and experienced teams are committed to your complete satisfaction. When it's time to think about the beauty and strength of your property, you can always turn to us to steer your remodeling project in a bold and exciting direction.



Contact us to learn more about our waterproof flooring. Our showroom proudly serves customers throughout Denton, TX, including the Lake Cities Chamber of Commerce area, Sanger, Krum, Justin, and the surrounding communities.