Luxury Vinyl Planks in Denton, TX, Give Your Home a Lasting Appeal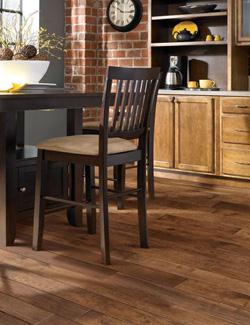 Your next re-flooring project is as good as done when you visit My Flooring America of Denton. Our selection of luxury vinyl planks in Denton, TX, allows you to enjoy the look of hardwood floors at a fraction of the cost and in any room in your home including the kitchen. Visit our flooring showroom and take your interior design to new heights. Thanks to our vast selection, attentive customer service, and professional installation options, improving the look, feel, and value of your property has never been easier.
At our flooring showroom, style and substance come together. We've teamed up with the well-known manufacturers, including Downs and Naturcor, to offer a wide-ranging selection of luxury vinyl planks in different styles.
If you have ideas, we're here to help you realize them. Our knowledge, experienced flooring associates will listen to your needs and make the right recommendations. We can even facilitate luxury vinyl plank floor installation, so you enjoy your selection as quickly as possible!


The Luxury Vinyl Plank Advantage
Strength, beauty, and durability: these are the characteristics which make luxury vinyl stand out from the rest. Manufactured to withstand everyday wear, these flooring options are as attractive as they are rugged. Choose this material, and you can enjoy:
Lasting Durability: LVP floor has been designed with the active household in mind. This flooring material remains pleasant underfoot while bearing the brunt of heavy foot traffic, scratches, and impacts.
Easier Cleaning: Luxury vinyl is non-porous, meaning that water and other liquids will have a hard time trying to stain its surface. Most spills come off using a dry cloth--any residue cleans up with a mild cleaning solution and a mop.
Limitless Design Options: Luxury vinyl flooring seamlessly mimics the beauty of hardwood, so whether you want the look of oak, pine, and mahogany, we have the design you're looking for. This material is a smart choice for the value-oriented homeowner.


Built for Your Life
Enjoy a beautiful interior that's meant for your everyday life. Luxury vinyl plank flooring is a great addition to any room, especially common areas, the kitchen, and bathroom. On top of that, they can create more peaceful spaces: the distinct composition of luxury vinyl offers soundproofing and insulation--great characteristics that can save you some stress, and on your overall energy costs.
Whether you are re-flooring your kitchen or bathroom, our luxury vinyl planks are a great choice. They can be installed easily to fit existing cabinet configurations. They install easily over virtually any surface, too. When it's time to upgrade your home, make us your first stop, and we'll help you plan a successful remodeling project.



Contact us to learn more about our luxury vinyl planks. We proudly serve customers throughout Denton, TX, including the Lake Cities Chamber of Commerce area, Sanger, Krum, Justin, and the surrounding communities.