Luxury Vinyl Plank in Denton, TX, Gives Your Home a Lasting Appeal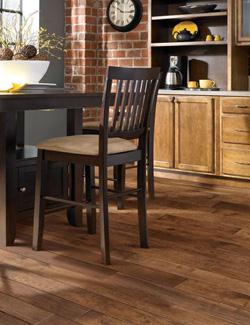 Deciding to redo any room in the house can is a huge commitment. Your next re-flooring project is as good as done when you visit My Flooring America of Denton. Our selection of luxury vinyl planks in Denton, TX, allows you to enjoy the look of hardwood floors at a fraction of the cost of original hardwood in any room in your home. When you visit our flooring showroom together, we'll take your interior design to new heights.
With any product you decide to purchase, our trained professionals are standing by to ensure all of your flooring needs are met. Our experienced staff will aid you in creating that stunning look in every room from our selection of resilient vinyl plank flooring.
Browse Through Our Wide Selection of Vinyl Plank Flooring
At our flooring showroom, style and substance come together. We've teamed up with the well-known manufacturers, including Downs and Naturcor, to offer a wide-ranging selection of luxury vinyl planks in different styles. Enjoy vinyl floors in your home that look like real hardwood. Our floors are designed to emulate natural wood flooring varieties, and they endure the busiest of lifestyles.
Convincing guests that your faux wood vinyl flooring isn't the real deal could be a hard sell. Notice the striking details and incredible realism when seeking out your perfect floors. Luxury vinyl plank has enough advantages to make this flooring the top choice for new floors for your home.
If you have ideas, we're here to help you realize them. Our knowledgeable and experienced flooring associates will listen to your needs and make the right recommendations. We can even facilitate your flooring installation, so you enjoy your selection as quickly as possible!
The Luxury Vinyl Plank Advantage
At My Flooring America in Denton, we offer vinyl flooring that will improve the look, feel, and value of your property. Vinyl offers:
Strength and Beauty: These are the characteristics which make luxury vinyl stand out from the rest. Luxury vinyl plank is softer and thicker due to an added layer of heavy film covered with an ultraviolet-cured urethane that makes it scuff-stain, and scratch-resistant, improving its wear and performance.
Lasting Durability: LVP floor is designed with the active household in mind. This flooring material remains pleasant underfoot while bearing the brunt of heavy foot traffic. Durability and stability mean it can take a beating in any high traffic room. The added thickness of our resilient vinyl plank flooring offers the advantages of better sound absorption, heat insulation, and comfort underfoot.
Easier Cleaning: Luxury vinyl is non-porous, meaning that water and other liquids will have a hard time trying to stain its surface. Most spills come off using a dry cloth--any residue cleans up with a mild cleaning solution and a mop making it a fantastic option for an area where spills happen frequently.
Limitless Design Options: Our faux wood vinyl flooring seamlessly mimics the beauty of hardwood flooring. Whether you want the look of oak, pine, and mahogany, we have the design you're looking for. This material is a smart choice for the value-oriented homeowner.
Built for Your Life
Enjoy a beautiful interior that's meant for your everyday life. Luxury vinyl wood plank flooring is an excellent addition to any room, especially common areas like the kitchen and bathroom. Plus, this flooring creates more peaceful spaces since the distinct composition of luxury vinyl allows for greater soundproofing and insulation. Whether you are re-flooring your kitchen or bathroom, our luxury vinyl plank in Denton, TX, is a great choice. They can be installed quickly to fit existing cabinet configurations.
Installation Done for You
Knowing how to install vinyl wood plank flooring can be tricky, and we are happy to help ease the burden while we install your product for you. There is generally no required removal of your existing flooring or subflooring at time of installation, which means it can be done quickly so you can get back to enjoying your home or office.
When it's time to upgrade your home, make us your first stop. We'll make sure your floor is installed correctly, and your desired look is achieved without all the sweat. Be sure to ask one of the flooring consultants about our in-home luxury vinyl plank installation in Denton, TX.

Contact us today at My Flooring America in Denton for more information on all of our flooring products and services we offer. We proudly serve Denton, TX, and the surrounding areas.