Vinyl Flooring in Denton, TX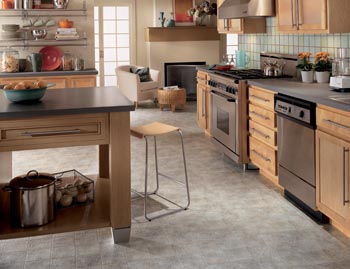 Versatile vinyl got its nickname for a very good reason. Through the wonders of manufacturing, this flooring type is available in a myriad of options that make decorating a delight. Our flooring store offers our customers hundreds of choices of vinyl flooring. Choose vinyl flooring with patterns or vinyl that resembles hardwood, stone, or tile.
For quick and easy installation, vinyl comes in sheets, squares, and planks. The flooring technicians at our store are trained and experienced to lay all types of vinyl flooring for you, whether sheets with a printed design, squares that look like tile, or planks that resemble wood. Professional service is the key to long-lasting vinyl flooring installation.

Easy Vinyl Floor Care
Our customers love vinyl for a number of reasons. It is affordable. It is practical. It is easy to clean and maintain.
We recommend vinyl floors for high-traffic areas in a home or business. Vinyl is manufactured to be strong and durable. It resists scratches and stains. Your vinyl floors do all this with just a little care from you. Dust mop when needed and damp mop every so often. These easy steps maintain clean and shining floors.

Vinyl Plank Floor Cleaning & Maintenance
Raise the bar for decorating by adding vinyl plank floor to your home. This type of vinyl is made to resemble natural hardwood with the grain and gloss. Plus, vinyl plank is easy to install and maintain.
For installation, request the help of our flooring technicians. These experienced professionals prepare the subfloor and lay vinyl so that it remains secure. Flooring that adheres properly does not expose itself to damage. When the time comes to change your flooring or replace a plank, it lifts up easily with the proper handling and products.
For maintenance, we recommend dry and damp mopping. This is enough to keep the surface clean and presentable for your family and guests.

Elegant Luxury Vinyl Tile Flooring
When you select luxury vinyl tile flooring, you add value and appeal to your home. Vinyl that resembles stone or ceramic tile provides elegance that enhances your décor. LVT is a budget-friendly flooring option that looks extravagant, but in reality is very practical as LVT is most affordable and durable.



Contact us today at <PHONE> for more information on choosing vinyl flooring for your home. We proudly serve the communities of Denton, Lake Cities Chamber area, Sanger, Krum, and Justin, Texas.